Purchasing a wand vibrator is not the final point on your way to torrid orgasmic fun. You also have to know how to get the most out of your vibe and how to treat it right, so it can last longer and be hygienic. This guide will provide all the necessary knowledge to start using your toy and not to miss anything else.
We have carried out a significant research and outlined 25 incredible wand vibrators for your unforgettable pleasure. Our findings were based on customer reviews and opinions as well as sales figures. In order to have a better understanding of how to choose your must-have, read our buying guide at the end of the article.
Last Updated:

Several positions in our list have been changed to reflect the latest developments. The best model according to our list is Smart Wand by Lelo for its brilliant quality and sleek texture. The second place belongs to Magic Wand for its power and great variety of functions. The third place goes to Mantric, because it is affordable and compact.
In this review:
Top 25 Wand Vibrators to Hit the Right Spot
We understand that there are loads of gorgeous sex toys on the market and 25 might not sound like much. Obviously, there are plenty of shapes and sizes to satisfy your desires. However, in that hand-picked list of wands, you ware very likely to find the one which will make the magic happen for you personally.

Many say that happiness can't be bought, but our vibes with an average price of about $100 will make you stay positive forever. The price varies depending on the characteristics, not only on quality. Thus, don't be disappointed when you see a high cost, just scroll down a little and you might find a better deal for your budget.
1. Lelo Smart Wand – Advanced Pleasure
Lelo is one of the world's leading sex toy manufacturers, and each product has an impressive quality and design, just like the revolutionary Smart Wand Large. This premium quality product is suitable for males and females. You can either play with it on your own or surrender the control to your partner for a greater excitement.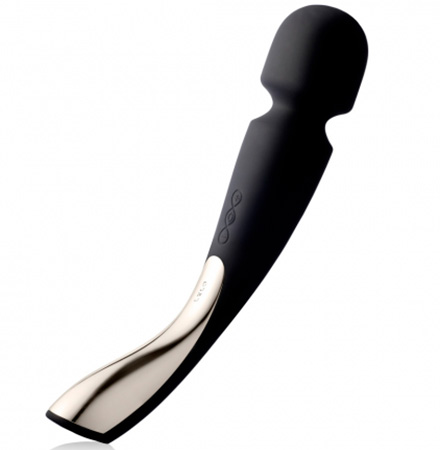 (more photos are available)
The hand of the vibe is ergonomically shaped and is extremely simple to operate. You can quickly get used to the 3 control buttons and its 8 vibration speeds and patterns. The head is super flexible; thus, you will be able to reach any particular spot with a little effort. Even though it has a significant size, you can still enjoy it in a relaxing bath as the massager is 100% waterproof.
The Sense Touch mode is a customized function great for a pinpoint stimulation. You can activate it by pressing the middle button. It works pretty simply: the greater you press it to your body, the stronger the pressure is. The motor is extra quiet, so Smart Wand will bring you joy wherever you use it.
The wand vibe comes in a luxurious discreet package. Inside you will find a charging cable that works for up to 2 hours. We particularly recommend this superb model for those who want to buy a toy that will serve for many years. This Lelo's vibrator has incredible quality and power, so why would you even settle for less?
Smart Wand will provide:
USB rechargeable
luxury item
ergonomic design
Sense Touch function
2. Magic Wand – Sex Miracles Can Happen!
You will never be old enough to stop believing in magic, especially when it comes to the Magic Wand vibrator. This model is a pure example of classics and has all the requirements you've probably considered before getting a perfect fit for your body. You will surely be enchanted by its effectiveness.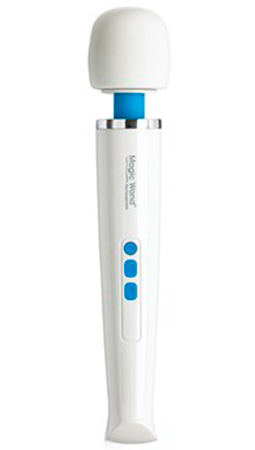 (more photos are available)
In fact, this model is an updated version of the original but slightly outdated vibe, which has been on the market for more than 30 years. 4 brand-new stimulation modes are truly amazing as they were carefully analyzed by experts. You will be able to feel them not only at the tip of your clitoris, but all along the nerve roots. Moreover, unlike other vibrators, this one has a large head, which will cover a wide area of your clitoris.
The best thing about this toy is that you can play for up to 3 hours after one charging and if you are not into waiting, just plug it into the wall and enjoy! With 4 different speeds there is a high chance for an orgasmic rollercoaster experience. The high-quality silicone head and the shiny plastic shaft will prevent you from any kind of disappointment.
The overall concept is wonderful: it combines both stylish design and light weight. Because of the high quality, it received almost 5 out of 5 stars among the customer reviews. We highly recommend this wand vibe for women who love strong, breath-taking vibrations. Advanced or beginner – it doesn't matter! This toy is super easy to operate with just 3 control buttons.
Magic Wand is about:
bestseller
1-year warranty
8 functions
great quality
3. Mantric – Treat Yourself!
This Mantric wand vibrator is a very silent toy with gentle pleasure settings. Perhaps it is the best choice for women who prefer less powerful stimulation. The surface is fully covered with silky silicone, which makes the vibe soft to the touch.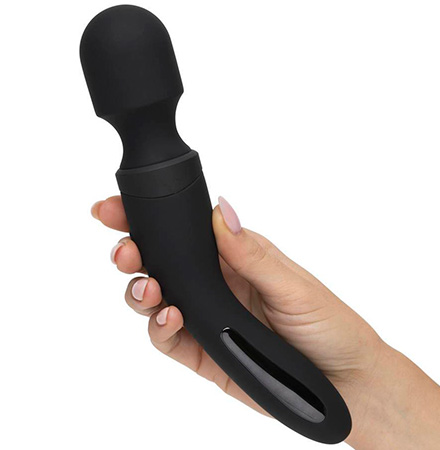 (more photos are available)
Because of the curved shaft you can direct your pulsations quite precisely. You have 7 satisfying pulsations to play with. The operations are very straightforward, and the compact size is perfect to please ladies who prefer less girth. The charger is included in a package.
Mantric has an average price and won't affect your budget that much. Unfortunately, you will not be able to use it in water, which can be a big minus for some users. But you can certainly enjoy your gorgeous toy anywhere else.
Mantric is about:
7 functions
USB rechargeable
travel lock
slim handle
4. Lovense Domi
If you or your partner are away, this model is the best solution for both. It is loved by many couples as it enables control via the app, which works at any distance. For a couple, having Lovense Domi is super sexy; you can even purchase it as a gift for your significant other. Turn the long distance issue into a thrilling game!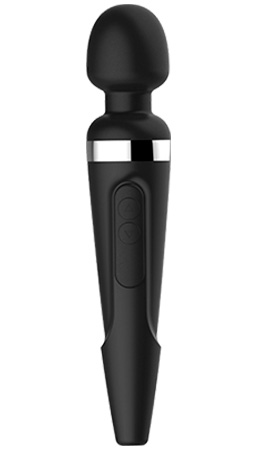 (more photos are available)
The best feature is that you can customize vibration patterns and modes as you please. This toy is also sensitive to your surroundings and can pulse along with your favorite music. It is really tiny, but never underestimate its power. Domi has an imbedded LED panel for a more exciting session.
You can purchase it at a reasonable price; however, be aware that it supports only certain devices and in some cases will not stay connected to the app.
Lovense Domi is about:
great gift
works through the app
customized patterns
100% waterproof
5. Hitachi Original
Another famous classical wand vibrator that was loved by many and will possibly be valued by you. For a reasonable price you will get one of the strongest sex toys on our list.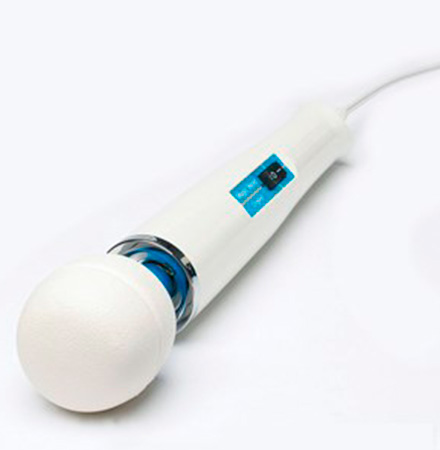 (more photos are available)
The vinyl head feels just as great as silicone and is large enough to cover all your sensitive spots. There are two extremely powerful vibrations speeds. It is great for beginners as it is simple to operate and can help you finally reach that desirable climax.
The best thing about Hitachi is that you won't have to buy any batteries or wait many hours for the vibe to charge. Just plug it into the socket and enjoy the session. Don't let the power cord to turn you off, it has a good length to allow a complete freedom of movement.
Hitachi features:
1,8m cable
great for beginners
instant satisfaction
discreet concept
6. Tracey Cox Supersex
This wand vibrator is absolutely great for beginners due to the smooth elegant look and 10 various modes. The massager is fully covered with silicone and has a flexible head for hard to reach places.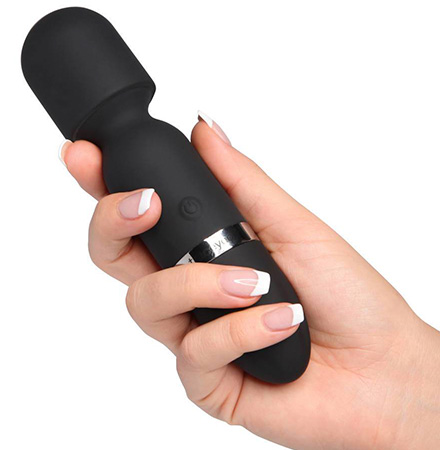 (more photos are available)
It is small and compact for customers who like mini-versions of original wands. Even though the power and quality remained the same, the price fell down significantly. It is one of the cheapest sex toys we have in our article. Literally anyone can afford it.
You should know that cheap doesn't mean bad. In this case it is just a sign that some functions or characteristics are missing. In Tracey Cox's case you'll only get the battery-powered option and won't be able to play with it in water. The cleaning process also becomes harder.
Supersex is about:
10 pleasure settings
quality silicone
cheap price
battery powered
7. Maia Twistty
If you are getting tired of what the market offers, we found a brand-new wand vibe to please you. Maia has a ribbed bulbous head to generate exotic sensations. The best thing is that you can use both endings of this powerful toy. One is for the G-Spot and another – for your clitoris. The double motors will provide dual pleasure and quicker orgasms.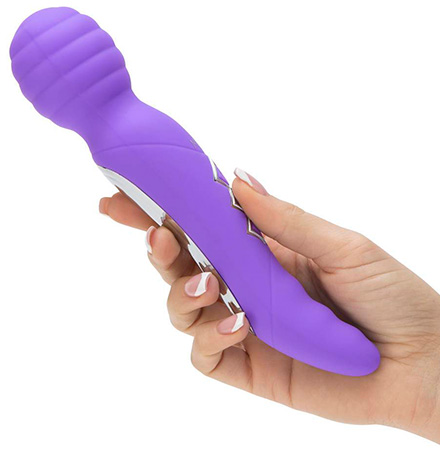 (more photos are available)
It has an average price and visible benefits for those who are trying to save money and to experiment. Just imagine – you are getting two vibrators in one for greater variety. Moreover, this model has 10 different functions, which is definitely higher than what standard ones offer.
Perhaps, the only issue is the noise: due to the high intensity it can also get loud. However, if you are not planning on a discreet session, it will be an amazing choice.
Maia Twistty features:
2 motors
10 customized settings
USB charger
8. Bodywand Aqua
If you love playing with yourself in the bathtub, but do not trust other toys, you can always get our beautiful Aqua. The creators of this wand vibrator provided it with a tight protective membrane, and thus you can safely please yourself when in water.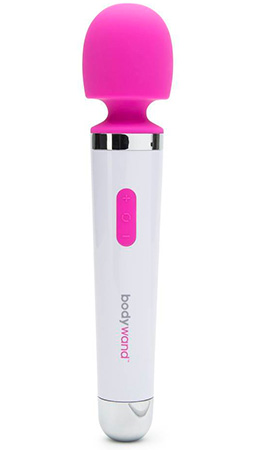 (more photos are available)
The Aqua cordless vibe has total of 8 embedded settings. For some they will feel delicate, for others – strong and deep, but you will always find the one to get a mind-blowing orgasm. The functions were carefully chosen by specialists among women's most wanted vibrations.
The main drawback is that customers usually find the bulbous ending way too thick for penetration. On the other hand, the massage it gives will never feel burning, like with many similar vibes on the market.
Bodywand Aqua will provide:
fully waterproof
cheap price
8 functions
powered by batteries
9. Awash with Sensation
A Hollywood level of satisfaction is now more available than ever. You can complete your famous red room by adding a new Awash with Sensation wand vibrator. This luxurious massager will cost you much less compared to what you'll receive after each session.
(more photos are available)
This item offers you a great choice of 20 vibrations and 10 intensity speeds; it is the largest number of stimulations we have on the list. If your imagination needs some help, the Fifty Shades vibe is the one to go for a ride with. Explore all the pulsation modes using the 3 inbuilt soft touch buttons.
The handle is ergonomic and slim, however, due to its significant size and heavy weight, this wand vibe will be hard to operate for people with relatively small hands.
Awash with Sensation features:
charging cable
signature collection
30 functions
sating storage bag
10. Nalone Rockit
If you like bright toys with outstanding technology, this Rockit wand vibe will surely take you to the moon. Rockit is awesome for G-Spot stimulation, as it gives deep and rumbly vibrations. Many customers admit that the pleasure they received was utterly fascinating.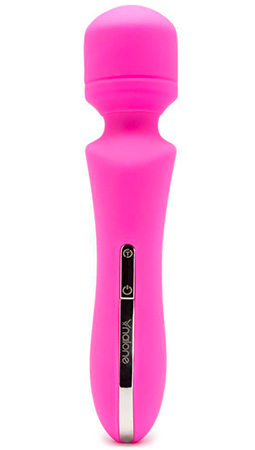 (more photos are available)
There is a total of 7 functions you can try yourself or hand in the control to your partner. The silicone toy has hidden sensors that react even to the slightest contact. It is super simple to direct this comfortable vibrator just where you want it to be due to a flexible rotating head.
The only issue is that it takes quite a lot of time to charge, one hour of charge will only result in one hour of use.
Nalone Rockit will provide:
7 pleasure settings
waterproof
rechargeable
sense touch technology
11. Shibari
The Japanese sex toy producers definitely know everything about satisfying women. We would highly recommend this wand vibe for women who prefer soft textures and long-lasting batteries.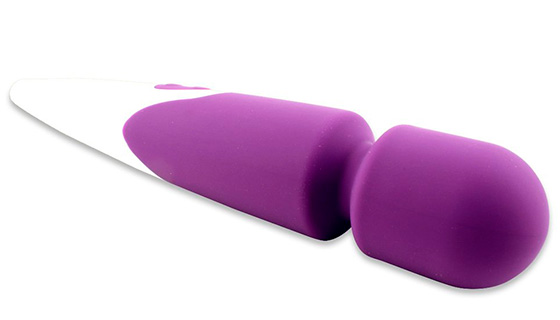 (more photos are available)
The 10 magical vibrations feel very realistic and can sort of remind you of cunnilingus. Because every single detail of Shibari was professionally designed, none of the patterns will make your clitoris numb. You can easily charge the toy by plugging into a socket, an hour and a half will be enough to have two full sessions.
The main drawback is that it's definitely not the most discreet toy you can find. First of all, the size is rather large. Secondly, this wand vibe can get really loud. However, it is still a nice option for those who are not trying to hide their secrets.
Shibari Vibrator is about:
wireless control
10 functions
creative design
safe material
12. White Mini
This great wand vibrator can fit into anyone's purse. Despite it being one of the smallest toys on our list, the power this vibe generates is just unbelievable. There are 8 settings which will help to reach the climax during a lunch break. Its flexible head allows to apply less pressure and makes the experience more enjoyable.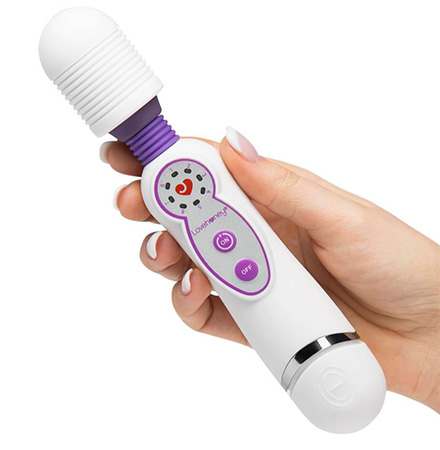 (more photos are available)
The disadvantage is that it is not rechargeable and the batteries are not included, thus you will have to search and buy the required power source. Moreover, the users report that the more you use the toy, the less you feel the effect of fresh batteries.
White Mini features:
8 vibrations
splash proof
ribbed surface
discreet size
13. Holy Cow!
We want to prove that not every item of a highly ranked Fifty Shades collection is so expensive. For such a low price you can masturbate with 8 sexy functions. You can charge this vibe by impaling the base with the end of a charging cable – this concept makes the toy completely safe for bath sessions.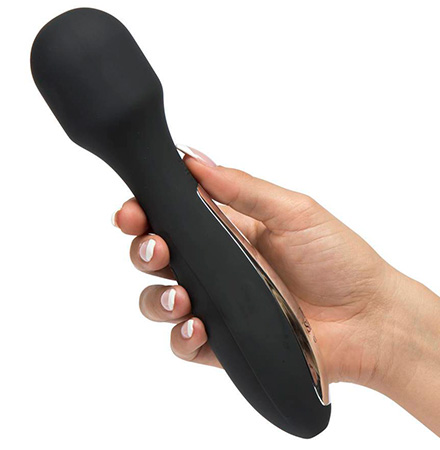 (more photos are available)
If you expect something luxurious for this price, we have to disappoint you: the design, as well as the package, look quite cheap. However, Holy Cow still works great and doesn't have any particular minuses in term of operation.
Holy Cow is about:
8 speeds
great quality
signature product
full charge 2 hours
14. LE WAND
French manufacturers know everything about desire and the right way to treat it. After long tests, they introduced Pearl White to the world. It has all the functions of top vibes and even more – a whopping 30 modes! For greater variety you can even replace the nozzle with one of the several you will find in the package.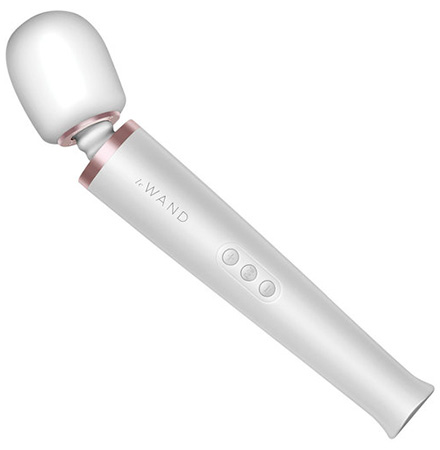 (more photos are available)
The customers are usually satisfied with their purchase; however, the price sometimes bothers them. It can be expensive, but it is definitely worth it – this wand vibe nails every requirement. Don't be afraid to trust the brand and try out this sexy rechargeable toy!
Pearl White features:
high quality
30 settings
ribbed nozzle
travel lock
15. Lovelife Wanderlust
The design is quite entertaining – this vibe has hearts everywhere, which makes it look cute and girlish. You will discover 7 standard vibrations and a heart-shaped silicone head. It is a useful feature, as you can put the clitoris in the middle and get it massaged from every direction.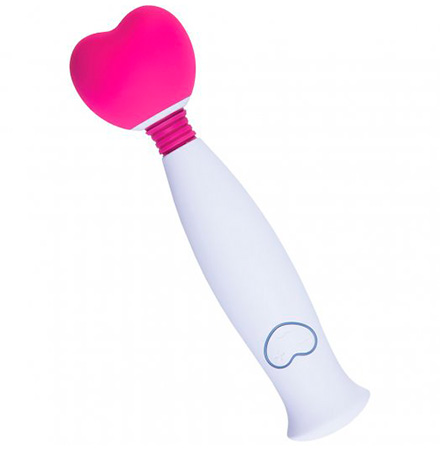 (more photos are available)
It is a great splash-proof toy with a whisper-quiet motor and discreet design. Unfortunately, you will have to spend hours waiting for it to charge, which is not an issue if you don't use it too often.
Lovelife Wanderlust is about:
7 modes
heart-shaped head
quality silicone
16. O-WAND
This sex toy will make you go WOW. It meets all the features you were looking for and even more. This cordless wand is one of the most powerful, ergonomic and light vibes on the market. The greatest characteristic is that this wand has 7 vibration patterns and two textured nozzles for your pleasure.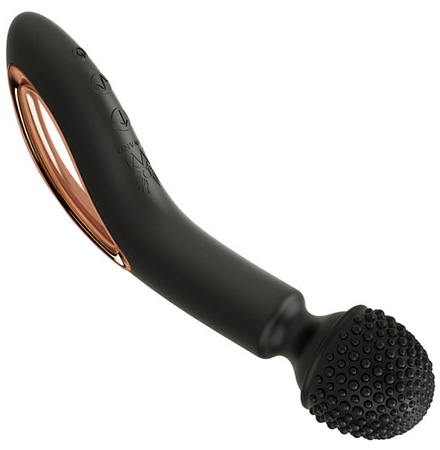 (more photos are available)
Unlike many other vibrators, this one is extra easy to hold because of the handle that provides extra grip when using. It will best suit those customers who love modern touch and quality orgasms. Due to the high price of the toy, however, not everyone will be able to get it.
O-WAND will provide:
7 functions
award winning toy
dotted nozzle
17. Mystic WAND
Every woman has a little mystery that she keeps in secret. The Mystic wand vibrator is a perfectly discreet toy for delivering multiple orgasms. It is cheap, compact and comfortable. You will never hear it from the other room and won't have to leave it for charging.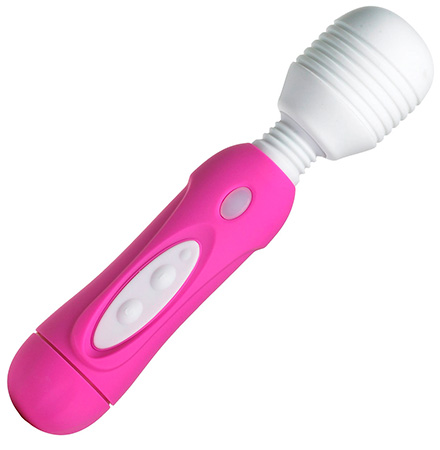 (more photos are available)
This cute toy has 3 speed and multiple classic patterns indicated by the LED icon. The drawback is that the buttons are situated quite close to each other and you can press the wrong one during the session. It is unlikely, but be aware of this issue.
Mystic WAND is about:
battery-powered
small size
3 intensity speeds
18. Magic Massager
Just like the Hitachi, Magic is super powerful. Some customers claim that this wand vibrator is just a cheap copy. That's a false statement. First of all, it looks totally different and has better visual design and a shorter cord. The pulsations are also strong, but they don't bring any discomfort.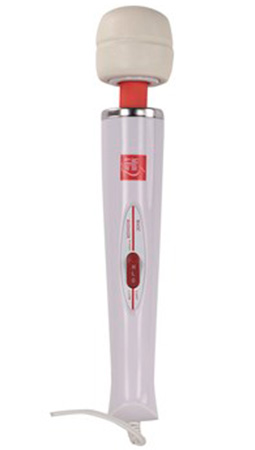 (more photos are available)
The problem is that having 2 intensity levels is too simplistic for the price. There are plenty of other cordless toys with many more patterns and pulsations. You'd better add more variety into your sex life.
Magic Massager features:
6m power cord
2 speeds
ABS plastic
19. Coco de Mer
Emmeline is a movie star featured in one of the Fifty Shades of Grey films. Now you have a chance to add this luxurious item to your own collection. This fully silicone toy has several functions and speeds.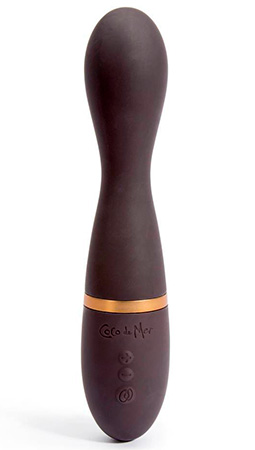 (more photos are available)
You can use it for either external or internal stimulation and it will show you the orgasmic heaven. The imbedded motors are whisper-quiet for discreet masturbation. The shape is appropriate G-Spot stimulation and because the bulb is a little narrower at the end you can get pinpoint stimulation.
However, it is an expensive purchase. But if you are ready to pay such amount for this unusual sex toy, you won't stop moaning from satisfaction. Trust us, you will be amazed by the quality of its massaging effect.
Coco de Mer is about:
leather case
USB charger
5 pulsation patterns
20. Pure Enrichment Peak
We proudly present the Pure Enrichment Peak vibrator, which is all about pink girlish design and high-tech vibrations. If you are into pinpoint stimulation of a decent clitoral area, this should be your must-have. The pulsations it delivers are going from soft and murmuring to strong and deep ones.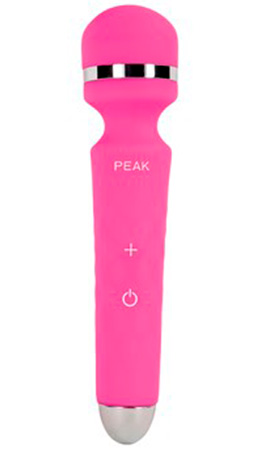 (more photos are available)
The vibe is also quite compact and therefore suitable for traveling. It comes with a beautiful velvet case and a USB charger, which you can easily plug into your computer. The Peak vibrator is brilliant for night sessions as it has embedded LED indicators and will be a great addition for bath or shower experience after a long day.
You will never get lost with this pretty massager, as it has only 2 buttons, which makes things very straightforward when it comes to operating the toy. The manufacturer offers a great variety of 7 pleasure settings with different levels of intensity. The head is reasonably flexible, but yet it has just enough firmness to make you cum in seconds.
The best thing is that you really can afford buying this vibrator. This price is nothing but a blessing if you were looking for toy that combines high-quality materials with a nice range of functions. It can definitely be the one if you want to spice up things in bed with your partner. You simply can't go wrong with this choice!
Enrichment Peak is about:
average price
silky surface
7 pleasure settings
USB charger
21. Doxy Extra Powerful
If you are still unimpressed by the power of previous wand vibes, here is the most powerful one we have found so far. Doxy should definitely be your first aid if you are struggling to reach the climax. It is also great for advanced users in case they want some wild experience.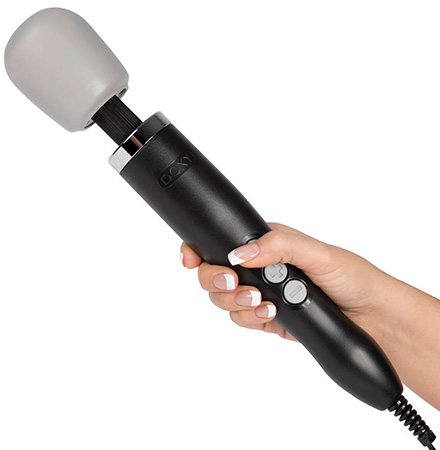 (more photos are available)
The vibrator has a classy design and a comfortable light handle comfortable for anyone. There is a total of 8 settings, including pulsation modes, which is a bit more than an average vibe offers. The best thing is that even on the highest speed, you will barely hear the vibrations.
We should admit that not everyone can handle this sexy toy. Although, this is not the most expensive one, it has a great concept that does not require any batteries or chargers.
Doxy will provide:
8m power cord
silicone head
slim handle
8 strong modes
22. Gigi 2
It is an updated version of a well-known massager by Lelo. The company always surprises the customers with something new and when they came up with this little wand vibe, no one expected you can squirt with it. So, ladies, if you haven't discovered the secrets of your body yet, get this toy.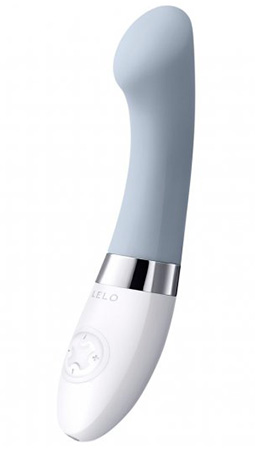 (more photos are available)
This wand vibrator is really perfect for G-Spot stimulation and feels great on your nipples or clitoris as well. This toy is rechargeable and is available in 3 colors. One charge produces 2 hours of unforgettable sensations. Moreover, the ergonomic handle provides a shortcut to orgasms.
Because the toy was developed by a professional brand, it may cost a lot for someone who is not so sure what they would like to purchase. There are plenty of cheaper ones, but Gigi 2 is obviously worth buying.
Gigi 2 features:
1-year warranty
flattened head
100% waterproof
8 modes
23. Doxy Extra
It is an upgraded vibe with an aluminum shaft and a longer cord to allow more freedom of movement. The elements of this wand vibrator can amaze you at first glance. If you compare the previous model to this one, you can instantly tell that the novelty is slimmer and lighter, its 8 vibrations are more defined, and the head is much softer.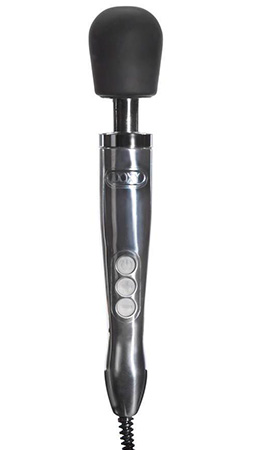 (more photos are available)
However, when buying this device you are still more likely to pay the high cost for the expensive-looking design rather than for the actual vibrations. Doxy's power is just too weak for thundering orgasms. Although it works well for women who enjoy non-intense external stimulations or use vibrators only for teasing.
Doxy Extra is about:
8 preset pulsations
3 LED buttons
charger
24. Sola Sync
Sola is the best option for those who absolutely love remote controls. The remote sometimes is an instant turn on when it comes to handing it in to your partner. Moreover, it is super comfortable for solo sessions.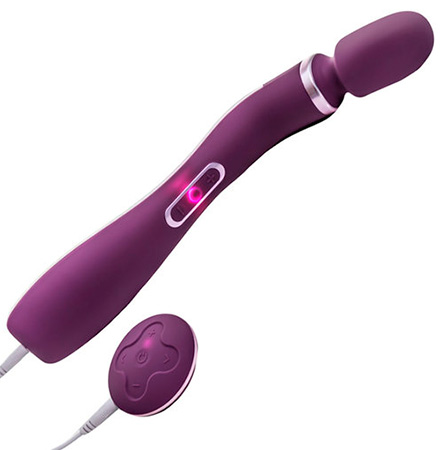 (more photos are available)
This sex toy has a curved handle to make its 10 patterns much more pleasing. You can easily hold the vibe between your legs and control the intensity levels with a remote. Sola can also float in water having its vibrating tip right against your clit. This product may cost a lot but its features are quite noteworty.
Sola Sync features:
remote control
100% waterproof
curved shaft
10 stimulations
25. Rumble
Last but not least, we are presenting the Rumble vibrator, a true sensation. The company endowed this toy with revolutionary design. A unique flattened silicone head will replicate your natural movement and is guaranteed to hit all of the clitoral nerve endings. The shiny cordless handle will drive you crazy with 7 buzzing vibrations.
(more photos are available)
The toy will get loud, especially on higher speeds, but it won't make as much noise as you or your partner will. You can't experiment with it underwater, but you are able to remove some parts of Rumble, so it will be much easier for you to clean it.
Rumple will provide:
7 intense speeds
premium silicone head
USB cable
Additional Information on Wand Vibrators
Magic wands were originally used to relieve muscle pain. However, they gained much wider popularity as sex toys. The vibe consists of a handle and a vibrating head located at the top of the shaft. It is mainly used as a clitoral vibrator and is famous for the fact that it can bring almost every woman to orgasm.
Other uses of the magic wand
In addition to using as a sex toy, this type of vibrators can serve as a massage unit. If you look back in time, the original Hitachi magic wand was advertised and sold as a personal massager. Therefore, if you plan to purchase this type of vibe, you can get more than just a plain sex toy.
Having used several vibes, we can tell they can be applied to your body as a neck massager. The stimulations from the toy are more than capable to help with relieving the pain from a hard day or just to deliver some relaxing massage while you are at home.
With some more advanced waterproof models you can use it in a bath for even more enjoyable sessions. The sensations you get from it are very close to a jacuzzi effect, but this time you can direct the head to where you want it the most.
Using magic wand vibrators for man
In this part we will take a closer look at the issue of using wand vibrators as a prostate stimulator. This part of the article will outline some of the main questions with regards to their use for men.
The most pleasurable spot for male stimulation is the prostate. This is a gland located in the rectum and is a very important part of the male sexual mechanism. It isolates the urethra from the bladder during erection. Stimulating this organ gives an incredible pleasure to any man.
However, with this type of vibrators it might be hard to reach the desirable spot. Many articles do not recommend this use scenario. This is due to the fact that these devices are mainly for external massage as opposed to internal stimulation. Moreover, the size of the vibrating head is usually too big to use it for the stated purpose.
This being said, it can still be used to stimulate male intimate parts. You can use it to massage your penis or the area in between the testicles and anus. Those spots will also provide your partner with a wide range of incredible and indescribable feelings. If used correctly, he can even get an orgasm from the stimulation.
If you want to use the toy, you should take some precautions. Those spots are very sensitive and in terms of sensitivity are very similar to a clitoris. Therefore, it is the man who should set the desired setting and control the whole process to avoid any discomfort.
Batteries or rechargeable
This is one of the most crucial points on the list, yet it is also the most debatable. People are arguing that battery powered magic wands are better than the rechargeable ones, or vice versa. So just buy what you consider to be the most suitable for your personal needs and frequency of sessions.
Currently, the most abundant type of the modern magic wands is rechargeable. This is very convenient for most people due to the fact that this type of vibes is much safer when used in water. If you like high-tech solutions, this is the best option due to the fact that rechargeable wands tend to be better looking.
This power source is the most appealing to people who like their toy to always have a fresh batteries effect. It is also the right choice for customers who love long sessions at high power. This is due to the fact that these vibes tend to have more power storage capacity and can give higher vibrations output.
Furthermore, it is appreciated by people looking to reduce the running cost of the toy. The USB rechargeable vibrators tend to be cheaper in the long term, as you will not have to buy additional batteries.
However, it is not too good if you tend to forget to put stuff on charge. It is no good having a vibrator, if you cannot use it when you want due to it not being charged beforehand.
When your wand is charging, it is not very discreet, so if someone walks into your room and you have it on the table, you will have to explain yourself. In addition, the majority of the designs are quite similar to each other and if the person knows what the wand vibes look like, they will spot it instantly.
Another powering option for your wand vibrator is batteries. This is a very convenient way to power the vibrator, because if it runs out of charge during use, you can just swap the batteries and continue your way to orgasm.
It is also more discreet. Batteries are used in lots of home appliances, such as TV remotes or kitchen scales, therefore it will not cause any suspicion if you throw away a pack of batteries after changing.
However, battery powered wand vibrators tend to be more expensive to run. Some of those toys are not optimized and tend to drain power very quickly. If you buy a new pack of batteries every week, that will be a considerable cost over your toy's lifetime. Though they are great if you are into rare sessions.
In addition, battery powered vibrators are very delicate in terms of waterproofing. If you damage the sealing of the unit while changing the power source, your vibe can stop working after you wash it because of water getting inside of it.
If you look back to the original Hitachi wand, it had a power cord which you had to plug into a socket to start the session. Some of the models are still powered the same way. It is convenient if you use it in your bedroom. The positive side of it is that you won't have to worry about charging your wand vibe at all.
Yet there are several limitations with a given powering option. Such devices do not tend to be waterproof and it will be tricky to clean them properly. You will have to be really careful during the process as any splash can cause a fault. We do not recommend such vibes for travelers, because finding a socket strategically situated to allow enough freedom can be difficult.
How to use a magic wand?
All the vibrator types we know are said to originate from vibrating massagers. If that is so, then magic wand is the true essence of this kind of sex toys. Sold originally as a personal massaging unit, its 'alternative' use was not as clear as it is now. It is Betty Dodson who popularized such a twist in the late 60s.
After you chose the 'wand' remember that using it properly is something that you will have to learn. This brief description will help you to outline the most important steps to take in order to rediscover your vibe.
Initially after the purchase it is advisable to take your time to have a look through all the settings that the vibrator offers, read the manual and see for yourself which of them are the most pleasurable for you. This will help you to understand how to get the most out of your 'playtime'. If you are planning on using the toy with your partner, try to get used to it yourself.
Following that you will have to determine whether the vibe is waterproof or not and get any cleaning products for maintaining your toy after each use. In addition, it will clarify where you can use it, or what to avoid when using it.
It is important to understand that it is not advisable to rush into using the wand when you are not ready. First of all, you have to get turned on and be in the right mood prior to the main event in order to get the most pleasure and avoid any discomfort.
You will also have to determine how much contact with the vibrating head you want and where your most sensitive spots are. Wand vibrators with a large head are not meant for insertion at all. Although there is no such thing as a standard rule for applying the vibe for everyone, thrilling orgasms can only be achieved after dedicating your precious time for experimenting with the vibe.
Be gentle with yourself. It is not good to be pushing things too far. We advise you to slowly build up your orgasms and use a generous amount of lube. The more you use, the less irritation you will get in the end. You may also try to play with your natural wetness. Don't forget that you should apply water-based lubricants for several times during the session as they do dry out.
Try every available setting to find the one that suits you most. If you do not rush things, you can get a lot more than if you just power jump to the highest setting without any warm-up. Slow progression will ensure that you get the most out of your wand vibrator. Remember, the secret of a successful climax is using your imagination!
Tricks and Tips for Using
If you care about your personal hygiene and your own health, ALWAYS clean your vibrator. Ideally, you should clean it before and after each use. It is really important due to the fact that there is a possibility of getting a yeast infection if the toy is not maintained properly. Furthermore, the better you look after the toy, the longer it will look after you!
Always get the toy that is the most appealing to you. If you like the look of a wand vibe, your best bet is to just go for it;
Decide on whether you want your toy to be rechargeable, on batteries or socket plugged. This is really important as not only it will influence where you can use it, but also how much it is going to cost and how hard it will be to maintain it;
As with any sex toy, you should choose something that feels nice on your skin. Choosing a material that is causing discomfort or irritation will not help you to get to orgasm;
Before introducing it to your sex life with a partner, you should get to know how to use it first;
Care and Cleaning
Magic wand vibrators are one of the trickiest types of sex toys to clean. This is due to the fact that the head of some of them cannot be removed. Furthermore, some vibes are non-waterproof or even socket powered. Therefore, before washing you sex toy, read the manual carefully to see if it is waterproof.
The first cleaning option is viable for both non-waterproof vibrators as well as all other types of sex toys out there. The idea is to simply use special wipes to clean the vibe after and before each use. The whole process is very straightforward: take a napkin out of the pack, wipe gently but thoroughly then let the vibrator to dry.
This method is ideal for non-waterproof vibrators. It maintains the desired level of hygiene, as well as minimizes the contact with water. Therefore, there is a much lower possibility of damaging the vibe.
Moreover, the given cleaning technique is ideal in case the toy is used more than once within a short pause. You see, it has to be fully dried before the next use. On the other hand, the process of cleaning with antibacterial wipes takes only few seconds.
An alternative way of cleaning your sex toys is to use a special wash and running water. The given strategy is good in case your wand vibe is either waterproof or has a removable massage head. In addition, this given method is the most satisfying in terms of hygiene because the toy is washed thoroughly in this case.
The whole cleaning process consists of the following steps:
remove the massage head or seal the charging port;
place the vibe under the running water;
After this, put the sex toy wash on it and clean every single washable bit. Following this, rinse the toy again and let it dry.
On the other hand, the given method is usually very time-consuming. It is because the actual drying process takes a long time. This method is definitely not suitable for instances when the toy will be used again very soon.
Another viable method is to use a sex toy cleaning spray. This method is perfect for situations when the toy is splash resistant, but not entirely waterproof. The given method is fantastic due to its ease of use. It is also very fast and effective. If you perform this method correctly, you won't need to wait ages for your vibe to dry.
Sometimes this method is not the case to clean the toy thoroughly, especially when you have a textured head. Therefore, it is not usually enough just to use this method: thorough washing should take place once in a while.
In case you have nothing else to wash the vibrator with, you can use regular soap. This method is pretty much identical to the one with a special sex toy wash. This washing strategy is basic and in case you do not have any special cleaning products for your vibe, you always have the usual soap.
Unluckily, this cleaning method is very harmful for any type of silicone. Regular soap damages the vibrator's coating and fails to provide the required level of hygiene. This is because vibes have much higher hygiene standards, which regular soap can't satisfy.
Conclusion
Upon looking through the article, you are more prepared to make a weighted decision on which vibrator you want for yourself. This carefully selected list is highlighting both '+' and '-' of each selected model and it is now down to you to choose which one you want. All the toys within the list are quality checked and take about 5 working days to arrive.
Your choice should consider two points: your personal needs and how experienced you are with sex toys. It is no good for a beginner to rush straight into buying 'pro' toys as there is a high chance of disappointment. It is advisable to be objective when assessing your needs and capabilities.
Any device you go for is creating that unique opportunity for you and your partner to explore the secrets of sexuality. It is a great possibility to open up to your hidden desires, while making your sex life considerably hotter.